Near the town of Santa Croce in Alpago, nestled by the calm waters of the Siren's Bay (Baia delle Sirene), at the southern tip of Lake Santa Croce, is the Ichthyological Experimental Center.
Environmental sustainability of the project:
The building, of particular interest from an architectural point of view, was originally designed with the aim of redeveloping the area and encouraging the fish protection of the lake's endangered species: in this case specifically, the whitefish, the pike and trout. The area also plays an important role in the reintroduction and protection of rare tree species, the creation of a botanical garden and few walks & hikes on wooden walkways in the area.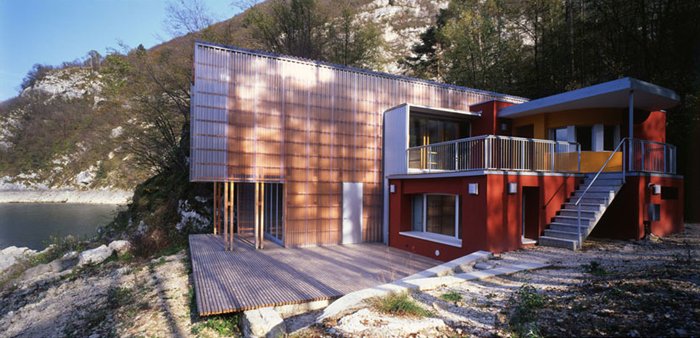 Architectural and structural aspects of the ichthyological center:
The Center is developed over two floors and was built in wood and concrete with the installation of large windows overlooking the lake.
Gross area: about 260 square meters, which is flanked by a small building, previously built, and used in the past as a boathouse and now converted into a laboratory.
The refined and architecturally sustainable design of the center is inspired by the shape of the surrounding trees, with modern and colorful architecture that fits perfectly in the environment.
The structure was then wrapped with a double external and internal coating, in partially transparent polycarbonate, which reveals the skeleton of the building and the wood fiber insulation.
Work was financed by the Veneto Region and the Province of Belluno.
The project was curated by Architect Lio Parcianello (Studio Parcianello & Partners Engineering)
Realisation of the work: Mattarei Group.
Prominent position:
The building is located in a privileged and panoramic position that allows admiring the beauty of the lake in a north-west direction. The space and views from the centre are so evocative that the location has been chosen by many couples to get married in civil ceremonies (link in Italian).
Educational aspects:
In addition, the center offers various educational options for schools and children, favoring the learning of activities and facts related to lake Santa Croce, its natural habitat and its fauna. During these educational courses, children and students can observe the phases that lead to the birth of fish, from the hatching of the eggs to their release into the lake.
Where is the ichthyological center in Alpago located? Info, map and useful contacts
Address: Baia delle Sirene, Santa Croce, Alpago, 32016, BL
For information, info and reservations, contact the following number: +39 0437 4244