Where is Alpago located?
The wonderful valley of Alpago is located halfway between Venice and Cortina d'Ampezzo (about an hour from both), and is a pre-Alpine geographical area located by the Dolomites, more precisely in the Belluno pre-Alps.
Alpago borders to the south with the city of Vittorio Veneto in the province of Treviso, to the east with the province of Pordenone, while to the north and west with the municipalities of Ponte nelle Alpi and Soverzene.
In this article we will outline the various options one has to get to Alpago, and consequently how to get to Lake Santa Croce or how to reach the Cansiglio forest. We will cover both public and private transport options.
How to get to Alpago by train?
Alpago is served by 2 railway stations. Coming from Venice Santa Lucia and heading north, the first station you come cross is the evocative stop of Santa Croce, with breath-taking views of Lake Santa Croce and the mountainous range of the Alpago basin, while the second station is called "Stazione per l'Alpago" (sometimes abbreviated as Stazione Alpago) and is located at the Alpago junction called "La Secca".
Alpago Train Station service hours:
From 5:53 in the morning to 21:06 with about thirty trains a day. Summer timetables usually differ from winter ones, so we recommend that you consult the Trenitalia website for the latest updates on timetables and routes.
Santa Croce del Lago Train Station service hours:
From 5:59 to 20:59 with about thirty trains a day. As mentioned above, we recommend consulting the Trenitalia website for the latest updates on timetables and routes.
How to get to Alpago by plane?
The 2 closest airports to Alpago are Treviso Canova Airport and Venice Marco Polo Airport.
Getting from Treviso Airport to Alpago by public transport: to get to Alpago directly from Treviso airport, you can use the shuttle bus 101, 102 or 103 from Canova Airport (TSF) to "Treviso Centrale" station; the bus shuttle ride takes about 10 minutes. Once you reach the Treviso Central train station, you can take the train directly to Santa Croce or to Alpago Station. From Alpago it is then possible to join the local public transport system to get to the desired location.
Getting from Marco Polo airport to Alpago by public transport: from Marco Polo airport there are several alternatives to get to Alpago. The most direct option without changes is by bus via the ATVO line 29 which directly connects the Marco Polo airport with Alpago – La Secca stop. The journey takes about an hour and the ticket can be purchased here. (Note: if you book a ride on the bus 29, make sure you input "LA SECCA" as the final stop of your journey)
Stops for line 29 direct from Marco Polo Airport to Alpago: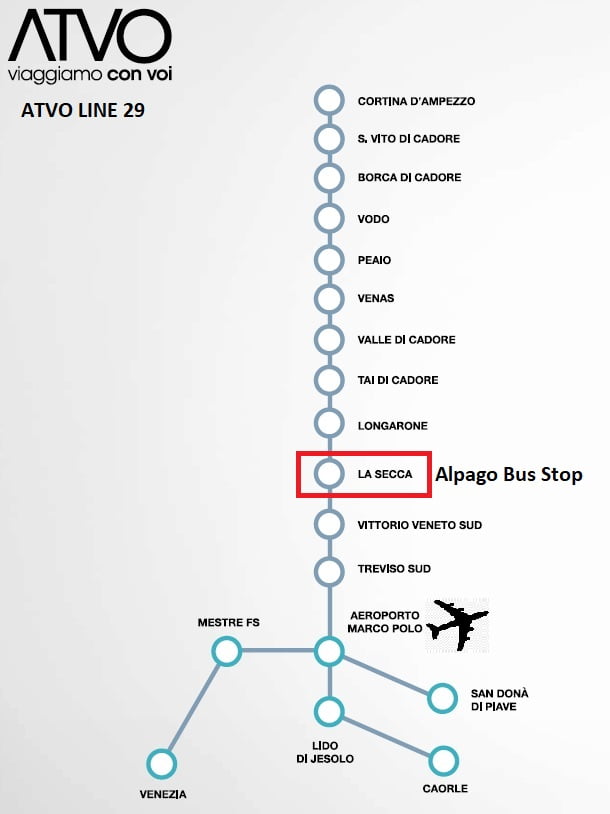 A second option to go from Marco Polo airport to Alpago is by getting a shuttle bus from the airport to Mestre train station. Once you arrive at Mestre station, simply hop on a train towards Santa Croce Lago and/or Stazione Alpago.
To get to Mestre Station from Venice airport, you can either get on the ACTV line 15 or the ATVO Mestre Express shuttle. The journey in both cases is about 20 or 25 minutes, depending on traffic. If you are willing to pay a little extra, you can also go to Mestre in about 10-15 minutes by taxi.
How to get around in Alpago?
Public transport in Alpago: there are several bus services that connect Alpago, Cansiglio and Lake Santa Croce with the cities of Belluno, Vittorio Veneto, the Dolomites and the Venetian coast. The service is mainly provided by Dolomitibus, in conjunction with other Venetian transport companies for seasonal or student services.
Below is the Transit map of public transport in Alpago, including intermodality between buses and railways: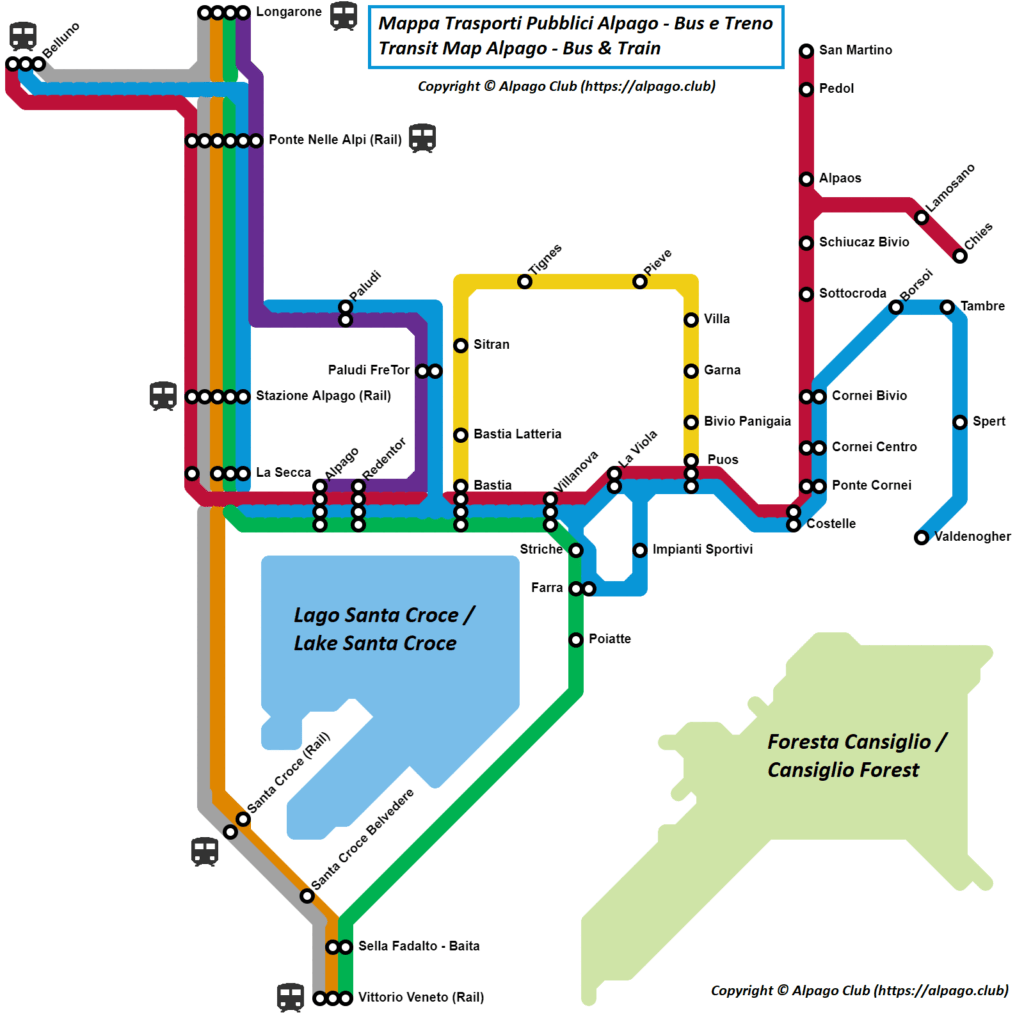 How to get to Alpago by car or by private vehicles?
To get to Alpago by car you can mainly use two alternatives:
The A27 motorway with two possible exits: arriving from south (Treviso or Venice), the Fadalto / Lago di Santa Croce motorway exit, or arriving from north (Austria, Cadore or Zoldo), the Cadola motorway exit.
The Alemagna state road n.51, which connects the city of Conegliano near Treviso with Dobbiaco in South Tyrol, joins the Alpago road network in 2 different points, one near Santa Croce del Lago to the south, and one a few kilometers further north to Bastia. If you're coming from Trento, Feltre and Belluno, the Bastia intersection also is the easiest and most recommended route.
Intersections Map of the Alemagna road n.51 with the Alpago road network:
How long does it take to reach Alpago from Treviso?
Getting to Alpago from Treviso takes about 45 minutes: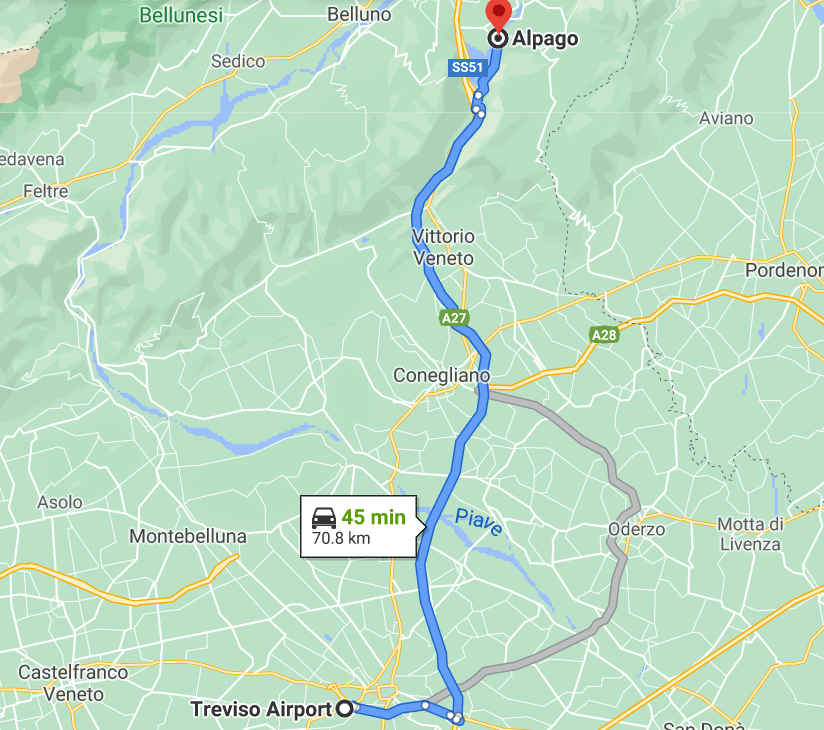 How long does it take to reach Alpago from Venice?
Getting to Alpago from Venice by car takes about 49 minutes: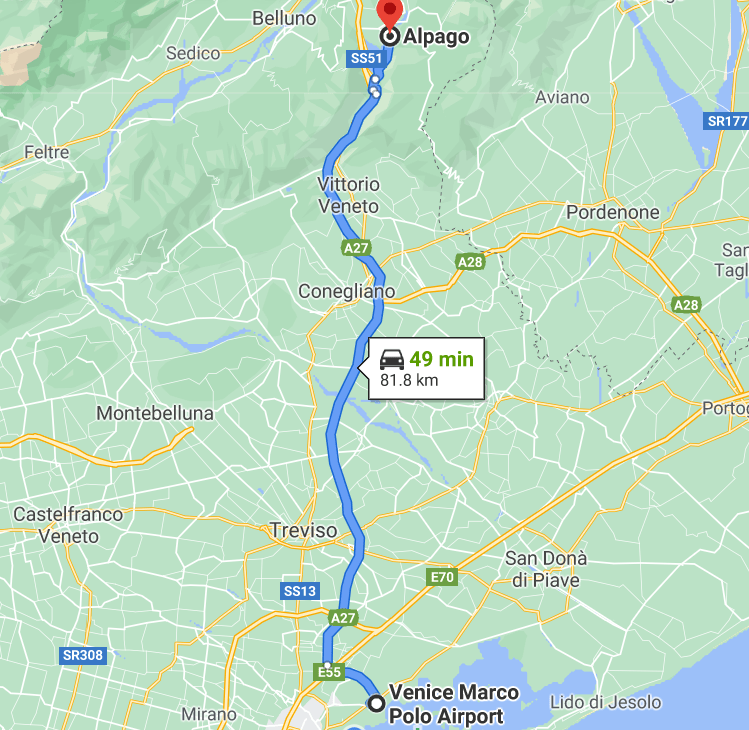 However, if you want to travel independently in Alpago, it is advisable to rent a car or use your own private vehicles. Public transport (especially buses), while it works well enough for commuters, workers and students, is not very frequent and may not be an ideal option if you want to roam around flexibly.